All beginning is easy – read first!
The txtperformer has a very simple structure and most of the functions should be self-explanatory. Nevertheless there are a few points you should know before you start.
The txtperformer is divided into three areas: on the left the analysis, on the top the editor and on the right the performer or optimization and other settings.
The txtperformer runs only in one browser. We recommend Chrome, Safari or Firefox for this.
All calculations are done locally on your computer. This means: If a page loads slowly, it is probably due to the processor or browser.
Privacy is important, so the browser cache is disabled by default. As a result, if you close the page and open it again, your text is gone. Nada. Nothing more there. Therefore our recommendation: Unfold the Performer in the upper right corner by clicking on the three dashes (burger menu). Then go to Additional Settings at the bottom and tap Restore Settings. Now click You bet! and you're done.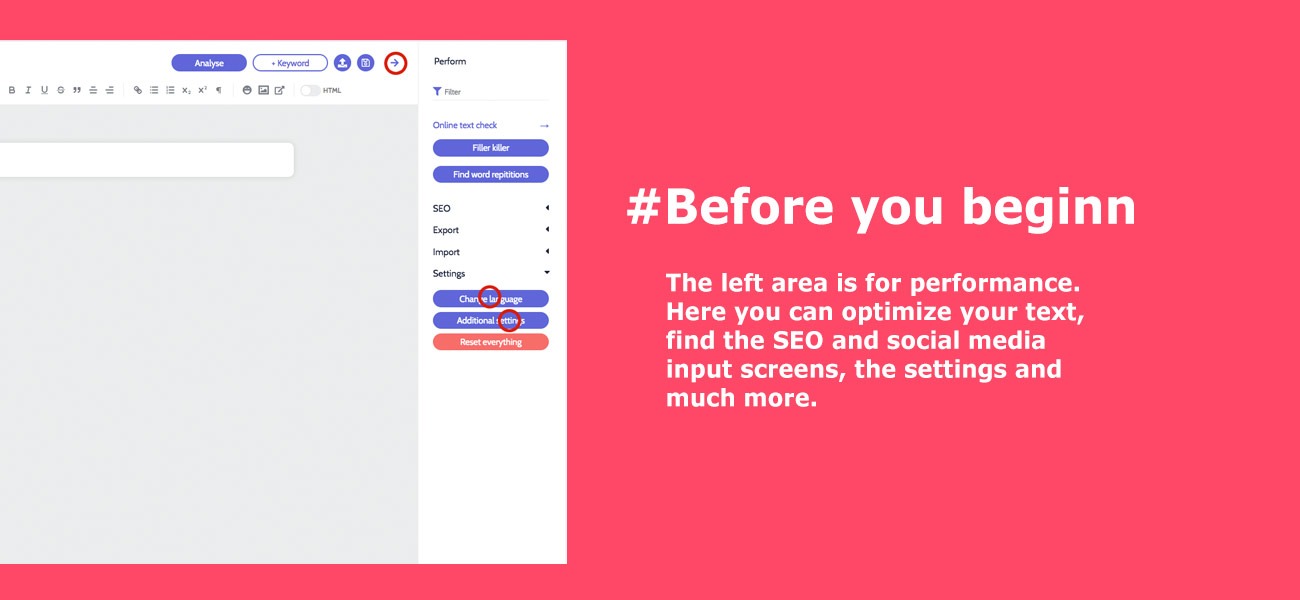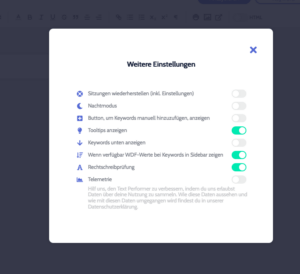 By default, the menu language is set to English. If you want to change it, go back to the right column as described in 4. Click on Change Language at the bottom and then on German (DE) or later on English again.
Which language do you want to use? To do this, go to the top left of the small diagram. The left column opens. At the very top you can select the text language, e.g. German (DE) or another language. This setting is important for the grammar check of your text.
Also important: For performance reasons there is no automatic saving or analysis. So, it is best to always save the text. For this purpose there are two icons in the editor (middle, top, right) for saving and loading. Your text file will then be saved as a JSON file. If you have written or imported a text (e.g. right column > Import) and want to analyze it, you always have to click on the Analyze button first (top center). Otherwise you will not get any analysis and the selected keywords will not be highlighted either.