The meaning of keyword distribution
Keyword distribution is an exciting topic. SEO professionals know that important keywords occur in the headline, at the beginning of the text and in the meta texts. But this keyword stuffing leads to the fact that the main keyword occurs relatively often at the beginning of the text.
This can be seen well in the following example. Text basis for this is: https://www.spiegel.de/ausland/russland-wladimir-kara-mursa-offenbar-von-fsb-vergiftet-a-0c7e0b1e-196b-4146-a55d-094e327e486e (with kind permission of spiegel.de)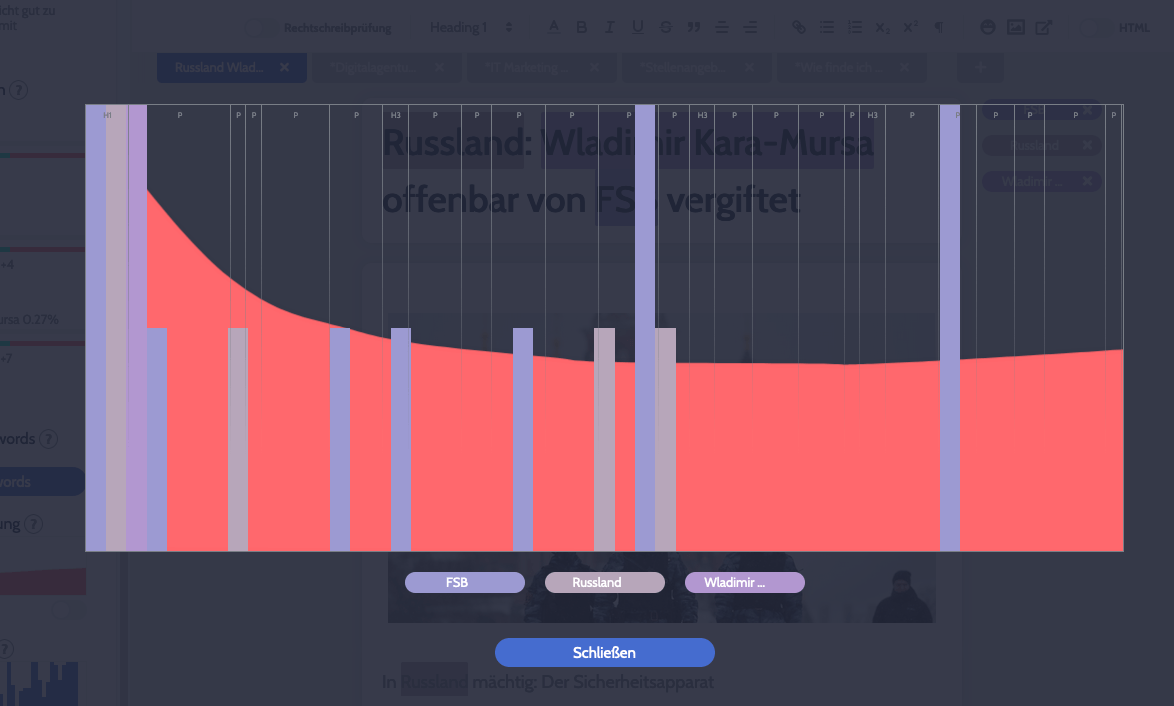 On the far left is the typical keyword stuffing that currently occurs. After that, the keyword stuffing becomes less. Normally, it should increase again towards the end of the article when it comes to the conclusion or outlook and the topic is summarized once again.
What does this keyword distribution tell us?
Based on this graphic, the search engine may suspect that the most important keywords were only used at the beginning of the text, but hardly play a role in the course of the text. Imagine you are writing a text about Bitcoins and in the course of the text you tell half the financial story, but don't mention Bitcoins anymore. How would Google interpret that? Missed the point. Bet. Six.
That's why this graphic is so important to us. It shows us keyword holes (keyword gaps) or content holes (content gaps). In the free areas where our keywords don't appear, we seem to be telling something different. Maybe we need these keyword gaps to tell a background story. But then they should not be too big. Or maybe we got a little bogged down and digressed thematically. Either way. A look at the keyword distribution shows you immediately if something is wrong with your text.
More about keyword gaps: